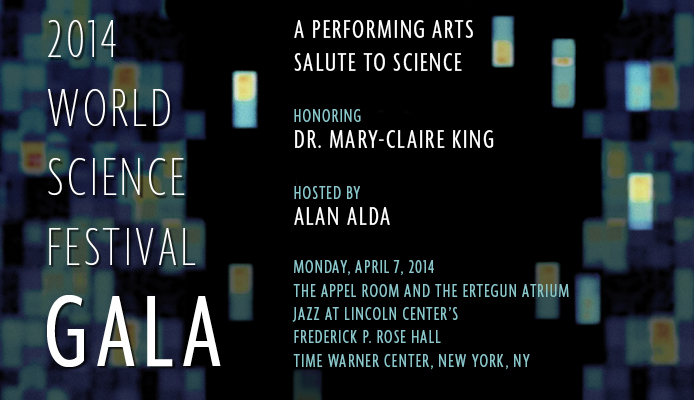 Thank you to all our guests for helping us make this year's World Science Festival Gala a smashing success! We've gathered some of the highlights from the celebration on our blog.
The World Science Festival Gala is annual celebration of the adventure, culture and content of science that features outstanding performances as well as an evening of science-infused delicacies. The Gala provides critical support to the Festival's year-round educational programs, both live and in the digital space.
This year's Gala Honoree is the astonishing Mary-Claire King, one of the most important geneticists of our time, a trailblazing role model and outspoken advocate for women scientists. Among her myriad accomplishments is the discovery of the first breast cancer gene, BRCA1 – a finding that has saved countless lives, and her work, always infused with a deep sense of humanity, continues to improve the world.
GALA CHAIRS
Marilyn and Jim Simons and Ann Ziff
GALA CO-CHAIRS
HONORARY COMMITTEE
Barbara Amonson and Vincent Della Pietra
Alan and Arlene Alda
Loreen Arbus
Joshua Bell
Pamela Hurst and Stephen Della Pietra
Rosanne Cash
Eleanor and Howard Morgan
David Chase
Lynda and Stewart Resnick
Anna Deavere Smith
Julia and Russell Shepard
Cameron Diaz
Robbert Dijkgraaf and Pia de Jong
Sylvia Earle
GALA VICE-CHAIRS
Elaine Fuchs
Peter F. Brown and Peggy Hamburg
Eric Lander
Gerry Ohrstrom
Shirley Ann Jackson
William Mayer
Paul Nurse
Emily McKhann and Andy Cooper
Gillian Small
Rory Riggs and Margaret Crotty
Wendy Suzuki
Stephen Robert
Naomi Watts and Liev Schreiber
and Pilar Crespi Robert
Beth and David Shaw
Benjamin Weston and Judith Cox
---
The Taste of Science
The 2014 Gala brings the extra dimension of taste, with culinary innovators and mixologists concocting science-inspired spirits and edibles. Read about
Kyl21
and
Loliware
, and
Shoots and Roots Bitters
on our blog.