On Saturday night, the NYU Center for Genomics and Systems Biology hosted "Botany At The Bar," the final event of the 2014 World Science Festival Scientific Kitchen series, where scientists mixed up a botanical tour for the senses.
The evening was led by Rachel Meyer, an evolutionary biologist at NYU, and Selena Ahmed, an assistant professor of food systems at Montana State University; both are also partners of the company Shoots and Roots, a Harlem-based line of artisanal bitters. To complement their botanical knowledge, Kevin Denton, the bar manager for the hip hotspots wd-50 and Alder, provided mixological expertise on infusing plants and herbs into creative cocktails.
The event opened with a history lesson, as Denton showed off some of the earliest known bar manuals, dating back to 1865. The manual shows how cocktails' core ingredients have stayed fairly constant for more than 150 years. Most cocktails stick to four key components: spirits, sugar, water, and a medicinal bitter. Bitters are essentially the combination of many different plants into one substance, which can be incorporated into food, drinks, or used medicinally. What sorts of plants can be used? It's really up to the imagination—and Shoots and Roots dreams big for its bitters.
"We're taking you on a tour around the world," Meyers said. "Each blend is focused on the plants that are native to a location, or that are medicinally or culturally important to that place."
The first sample offered was a taste of Ki Japanese Arboreal Bitters. The key ingredients in this concoction are Japanese plums, which are frequently used medicinally in southeast Asia; monk fruit, a compound 300 times sweeter than sugar; and dogwood tree jujube, which counteractively inhibits the perception of sweetness.
Next, visitors tried The Danube, a drink inspired by Ahmed's parents' household in Budapest. Flavors of elderberry, black current, licorice, and paprika collectively reflected Hungarian cuisine.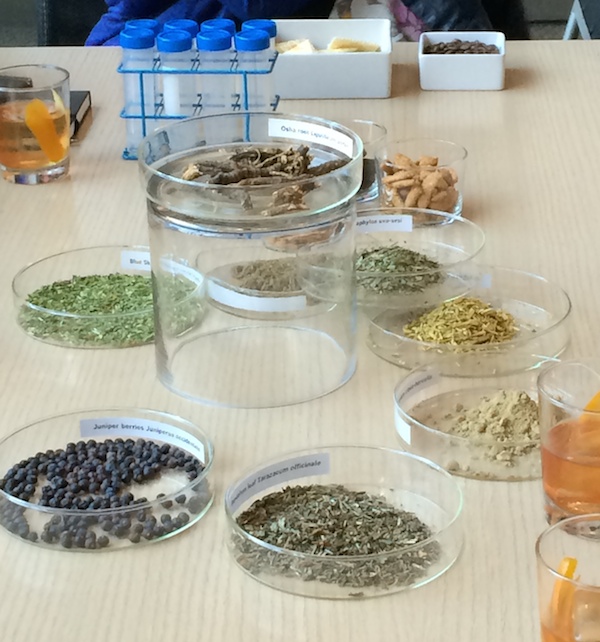 The United States was the next country to take liquid form, through Shoots and Roots' Black Bear's Bitters, which combined labrador, osha, elderberry, sloe berries, juniper berries, and dandelion, among other ingredients. The black bear inspired the scientists to create this bitters because bears cleverly take advantage of the medicinal properties in certain herbs. Like humans, bears and some animals have figured out that "a plant is likely to make you feel better because it has lots of defensive compounds," Meyers said.  "They help us fight disease, aches, pains, or aid in digestion."
Mexican-Filipino flavors shone through the Demon Flower bitters, made from bark, hibiscus, chamomile, and its namesake, the devil's hand flower, which is used medicinally and ritualistically in the region.
The last sample had a surprising bright orange hue. That concoction was made from carrots, tonic water, and buckthorn, which are tiny tart orange berries that "add color, dimension, flavor, and all the acidity of the drink," as Denton said.
After the guided taste tour of the globe, Meyers, Ahmed, and Denton let the audience explore on their own. Each table in the room was equipped with a collection of spices and herbs native to a particular geographic region. "Smell, taste, study the plants in front of you and come up with a blend that represents your region of the world," Meyer instructed. "Stand and interact with the different species."
To make their bitters, guests filled vials with herbs and grain alcohol, and then set the tubes in sonicators. These machines blast the plant cells with ultrasonic frequencies, which extracts the chemicals and flavors and forces them to interact. While the bitters sonicated for a half hour, Meyers provided a tour of the greenhouse upstairs where a refreshing date-syrup beer was served. Afterwards, guests bottled up their bitters to take home as a memento of the evening's unique sensory experience.
By: Abigail Fagan
Sign up for our free newsletter to see exclusive features and be the first to get news and updates on upcoming WSF programs.