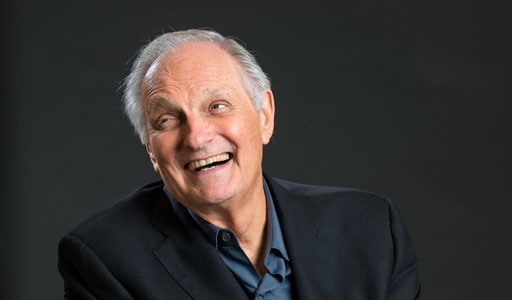 Since he was 11 years old, Alan Alda has asked questions about flames. But for a long time, the answers eluded him. As he learned at a young age, procuring information from the notoriously insular scientific community is often difficult. Generally, they're not the best communicators, he said, particularly when it comes to discussing their fields of expertise. But could that change?
At the World Science Festival program, "Alan Alda's Burning Question: What Is A Flame?," the actor and noted science enthusiast acknowledged that unpacking complex scientific ideas to a lay person is "very hard to do" but certainly not impossible. As he addressed roughly 200 audience members gathered at the Bennack Theater at the Paley Center for Media, Alda said that teaching scientists to explain theories and voice their work clearly is vital for breaking through public resistance to new ideas and beliefs.
Alda's Flame Challenge posited the query of how a flame is created to a slew of scientists with various backgrounds, from aerospace engineering to quantum mechanics. More than 6,000 11-year-olds acted as judges. For the uninitiated, the flame process is actually pretty complicated; it involves heat, atom collisions and solid matter turning into gas. After dissecting all the submissions, one of the main takeaways, Alda told the crowd, was that the young judges said they learned more from the overall "basket of explanations," as opposed to a single individual's answer. That he said, could offer some important insight into how people successfully process information.
When Alda brought five panelists onstage for the panel discussion, which included a mix of contest finalists and honorary mentions, some scientists noted that the most difficult part of participating in the challenge was striking that delicate balance between oversimplifying the scientific concepts behind flames and becoming too obtuse. Others said that they used the challenge to not only communicate better with people from non-scientific backgrounds, but also with each other.
The panelists' entries, which Alda shared with the audience, were creative, charming and sometimes quite funny. Ben Ames, who works in quantum physics, created a 7-minute video that explained flame-making using scientific theory, bright animation, and even a rather catchy original song. You can view all the finalists' entries here.
In the end, perhaps the most pointed observation about all this flame business unsurprisingly came from an 11-year-old judge who was interviewed in a video that aired before Alda even took the stage. A flame is "more than a flicker of light," she said. "It's actually something really special."
Well said.
The winner of Alda's Flame Challenge will be announced before the World Science Festival program, Cool Jobs, on Saturday at 1 p.m. at the Kaye Playhouse at Hunter College.