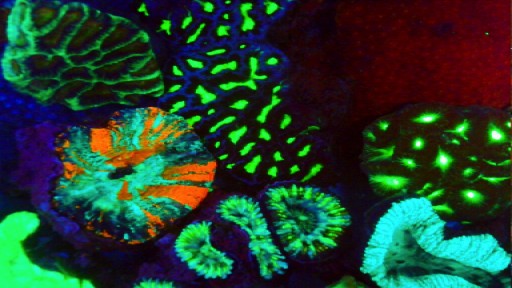 Last week, a five-member team of scientists traveled to the Solomon Islands to investigate one of nature's shining achievements: luminescent and fluorescent coral. The Solomon Islands are located east of Papua New Guinea and are part of the Coral Triangle, an ecologically diverse area of the ocean often referred to as the "Amazon of the Seas." These 5.7 million kilometers of underwater terrain have the highest diversity of coral in the world.
Team leader David Gruber, an assistant professor of biology at Baruch College and research associate at the American Museum of Natural History, described in a recent post for The New York Times the impressive stockpile of high-tech tools and equipment in use to capture this remarkable pocket of glowing sea life:
We are here to study this system with modern tools and techniques, like underwater spectrophotometers, narrow excitation bandwidth fluorescence imaging, military-grade low-light custom-built underwater cameras and a RED Epic 5K movie camera capable of obtaining imagery almost 10 times the resolution of high definition.
Many people associate the word "coral" with exotic islands and colorful jewelry. To a certain extent, this association is accurate: Coastal communities in the Solomon Islands rely heavily on indigenous coral, harvesting them for the curio trade and for aquariums. However, coral also hold enormous scientific value. Central to Gruber's research is the ability of coral molecules to produce light (luminesce) and to re-emit light (fluoresce). These properties can be harnessed by biomedical researchers to create probes and fluorescent tags to distinguish tissues and genes. Already, fluorescing coral proteins have been used to investigate cells associated with AIDS, cancer and Alzheimer's disease, among other pathologies. But there is still a lot to learn about coral and thousands of animals that inhabit reefs. Says Gruber:
Over the past two years, John and I have scoured the scientific literature on bioluminescence and biofluorescence … we were surprised that for certain organisms, like fireflies, there is a wealth of information, but for most other glowing animals, knowledge is remarkably scarce.
Nancy Knowlton and Anya Salih, the two scientists who discussed reefs at the World Science Festival three weeks ago, echoed a similar point, saying that there is so much research to be done, provided humanity can bring coral reefs back from the brink of extinction. Vincent Pieribone, who is joining Gruber in the Solomon Islands, has called coral "some of the most endangered organisms on the Earth." The World Wildlife Fund lists unsustainable fishing, development, pollution, and climate change as factors that have lead to the degradation of coral and the extinction of animals that inhabit them. Trying to curtail the effects of the negative actions can save coral, as can studies such as those conducted by Gruber and team to understand the importance of glowing in reefs.