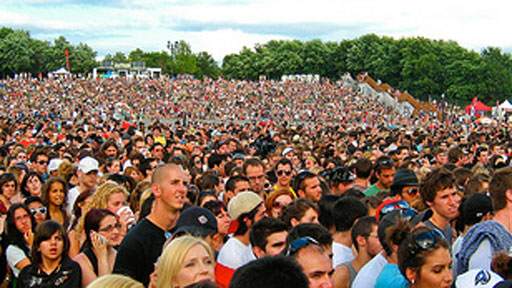 The Internet has forever changed how we interact with one another. It has placed an endless source of knowledge at our fingertips, changed the way we do business, and even helped topple a few dictators. However, there's another arena that the internet is starting to turn on its head: the way we do science.
I'm not just talking about running a SETI program on your computer or filling out a survey about the bugs in your backyard (even though those are really important too). I'm talking about something much more fundamental: posting a scientific problem online for crowds to contribute to solving it.
There are a multitude of science "games" out there (that you definitely should try). In Phylo, you move around colored squares that represent genes and match up human DNA to another animal's DNA (to check what traits were passed down from our evolutionary ancestors). Zooniverse, a science project platform, lets you partake in a number of activities: you can decode ancient Greek texts, find planets in other solar systems, discover new galaxies, and help interpret whale speech. In EteRNA, you work on shaping RNA. The researchers try to make these games as user friendly as they can, and they mostly rely on your ability to explore and recognize patterns.
Participants have been pouring onto these websites, collectively working on millions of pieces of data. With so much information for these researchers to wade through, a couple hundred thousand hungry minds examining your research can be a relief.
There have been a few amazing successes in science crowdsourcing lately:
Foldit, a website that lets players take a crack at guessing the shape of proteins, published a paper where it used online gamers to figure out the structure of a protein in HIV. The company PatientsLikeMe used people's feedback to conduct a trial for a drug that supposedly treats Lou Gherig's Disease (it didn't pass). Citizens in Japan helped crowdsource a map of radiation levels after the Fukushima power plant catastrophe.
The democratization of science has a lot of potential for the future. Don't get me wrong. Computers are great tools for research. They follow orders well and can go through steps very quickly. Yet, they're only as good as the algorithm you put in. Humans, on the other hand, adapt to what they see, using intuition and curiosity. You can always learn something more from a voice on the outside saying: "What is that?"
To learn more about how the internet is changing the way we live, check out Internet Everywhere: The Future of History's Most Distruptive Technology on Saturday, June 2nd at 1PM at the NYU Skirball Center.
Internet Everywhere: The Future of History's Most Disruptive Technology takes place on Saturday, June 2, at 1:00 PM at NYU Skirball Center for the Performing Arts.
Click here to get tickets