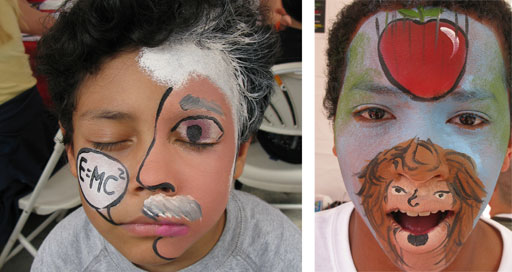 The annual World Science Festival Street Fair means many things to many people. Often it's all about injecting genuine, childish fun into science education—a process that takes several forms. And it's a two-way street: sometimes, the participants learn just as much as the visitors.
"The World Science Festival has been a great adventure for me as a facepainter over these past four years. Working with new and unusual themes is a wonderful way to expand design concepts—plus I am a bit of a science geek and fully appreciate this opportunity to share my enthusiasm with kids and families.

In the case of the World Science Festival, I've had as much fun talking with people about these things we are turning them in to as in coming up with these unique designs — telling stories about moments of science such as the 1919 solar eclipse that generated worldwide headlines proclaiming that "Einstein Was Right!". Plus, we've occasionally had the privilege of painting scientists in designs that fit their field of science, as in the time that a molecular biologist doing research on the brain gave me insight into how to depict neurons firing."