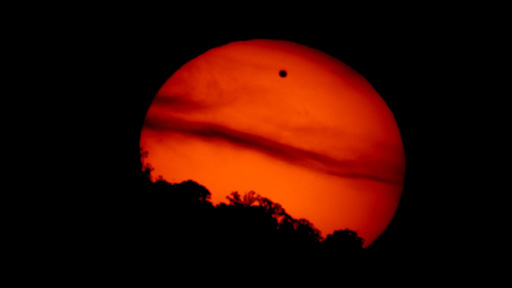 Today, the brightest planet in the sky will make history. At 6:09 PM EST, Earth's twin sister Venus begins a 6 hour, 40 minute journey as it slips between us and the Sun, offering astronomers a rare opportunity to study relatively close-up what happens when a planet transits a star. This same technique is used to spot planets beyond our own solar system, and getting a better understanding of how it works is key to finding Earth analogs.
From our humble perch on Earth, Venus will appear as a small inkblot on the Sun. Even if you can't view the transfer directly, you can still enjoy the show. Tune in to our website to watch NASA's live webcast from Hawaii, where the area's sunny skies and the relative isolation of NASA's viewing station will make for a stunning real-time view of the transit. The broadcast begins at 5:45 PM EST. Catch it if you can—the Transit of Venus won't happen again for another 105 years.
Here are a few more Transit of Venus viewing resources:
Find A Viewing Site: Provided by Sun-Earth Day and the Solar Dynamics Observatory, this map shows viewing sites for the Transit of Venus all around the world. Simply zoom in on your location in order to find a site near you from which to view this unique astronomical event. Click here to access the map.
There's An App For That: This app gathers your location and displays the starting and ending times of the Transit of Venus and the visible course that the planet of Venus will take. App provided by Steven van Rhode and Francois Mignard.
Protect Your Eyes: Serious eye damage can occur by looking straight at the sun for long periods of time. To prevent damage, take proper precautions!  If you don't already have a solar filtered telescope, the two least expensive methods to view the transit are by purchasing eclipse some shades or by making your own pinhole projector.