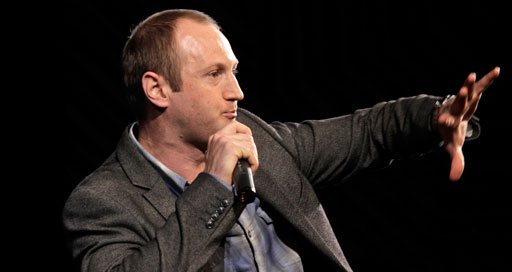 What happens when you take a comic-book inspired climbing device, prehistoric mammoth remains, a wisecracking robot, and a six pound frog—then wrap them in a beatboxed lyrical package?
You get some really cool jobs.
Children and adults alike were astounded by this highly entertaining, interactive event which showed that when you combine creativity with ingenuity, you can accomplish the amazing.
Quotables:
"I'm like Eminem crossed with David Attenborough doing a nature show ... my job is to make geekiness cool." – Baba Brinkman, rapping
"I'm really interested in where people and machines intersect... it makes you care more about the machine, and if you understand the story behind the machine, it gets a lot more intriguing." – Heather Knight
"And that's my message here, go out and find stories. Whether it's a frog, it's an ant—Learn about them as a scientist, as a journalist... Find the stories that you love." – Mark Moffett
"If you prick us in our battery pack, do we not bleed alkaline fluid?" –Data the Robot, paraphrasing the Bard
"So the intersection that I keep talking about, that is so incredibly awesome' is between art and technology; art and science." – Knight
"If you love something you have to take risks' this is the essence of loving anything, and if you're going to allow nature in this world you're going to have to allow for the possibility of snakes in our forests and sharks near our beaches." – Moffett
Overheard:
"Just watched video of Nate Ball's throat/vocal cords while he beatboxed. It was weird. And AWESOME." –@erincmccarthy, via Twitter
"Engineers get to help solve problems for real people, and they have fun doing it ...and figuring out how things work, and why!" – @macylao, via Twitter
Cool Jobs took place on Saturday, June 4, 2011. Check out other Instant Reactions or view the full Festival schedule to learn more about the many other 2011 Festival programs.
Photos by leslieimage.com