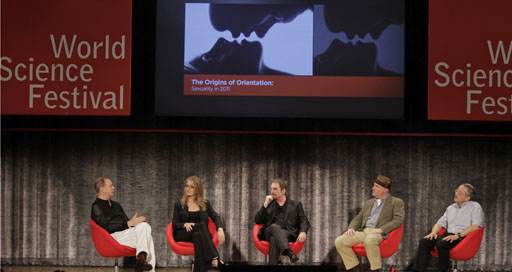 Origins of Orientation panelists delved into riveting discussions about arousal, longing, bonding and, of course, sexual activity on Saturday night at the World Science Festival. Scientists' rapidly evolving understanding of human sexuality was illuminated, as was the push for a new model to describe it.
Quotables:
"All of the research in Samoa shows the exact opposite. They are integral in bringing the family together; making the family stronger." -Paul Vasey, on the supposed destructive role of homosexuals in family culture in North America
"At what point does a child actually know their own mind? …How far you go to persuade a child to be happy with the sex they are born into, I think is a tough call."-Marc Breedlove
"Do zoophiles have an orientation that is distinct?" -Vasey
"To build a model of human sexuality that can in some way be informed by what we've learned about men, but to also understand the uniqueness of women's sexuality and the role of reproduction." -Meredith Chivers
"I am struck by the fact that Mother Nature loves a keeper—if it works it's going to stay." -Jim Pfaus
"We should be interested in understanding the diversity of sexuality and how it's organized on its own terms rather than how we would like it to be." -Vasey, on tying together diverse sexuality research programs
The Origins of Orientation: Sexuality in 2011 took place on Saturday, June 4, 2011. Check out other Instant Reactions or view the full Festival schedule to learn more about the many other 2011 Festival programs.
Photos by leslieimage.com