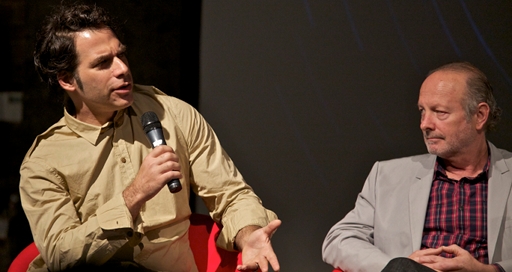 One of life's eternal questions was addressed at the Eyebeam Center for Technology, one that each of us has been pondering since birth: What makes The Beatles The Beatles? The World Science Festival brought four music-lovers onstage—a neural scientist, a producer, and two journalists—to reflect on why people listen to music. Although few questions were answered (Pssst! Kids! There's a wide open field of musical neuroscience!), it was a great opportunity to think about what makes a song popular, music as a universal human experience, and how the globalization of music is affecting its production.
Additionally, the panel was held amidst BIORHYTHMS, which brings art, science and music together in interactive exhibits including a bed that is played like an instrument, projected visualizations on a screen as you play a theremin, and a chance to deejay your own physiology and remix your heartbeat.
Quotables:
"Music does form such concrete blueprint-like memories for us" - Joe Levy
"Memory and emotion are like two sides of the same coin. Each emotion is a memory system of its own, and each time an emotion is activated, it strengthens the memories." - Joseph LeDoux
"The most powerful part of music to me is the overwhelming mystery of it. I know so much about it but I don't want to because the fun is in the mystery." - John Leventhal
"If I played a D minor chord, everybody in this room would feel a twinge of sadness, a wafting of loneliness." - Leventhal
"In terms of generating music, birds sing, they have their own music, but it's repetitive. Language and music are two human-specific traits." - LeDoux
"We have to remember that the body is a rhythm machine: The heart is a rhythm, the brain is a rhythm, we have circadian rhythms, daily and yearly rhythms." - LeDoux
Overheard:
"This is SO COOL. I LOVE IT HERE!!" - @mariyastwitter, via Twitter
"This is a really nice show, great mix of art and science:" - @rddy, via Twitter
Rhythms on the Brain: Music, Memory, and Emotion took place on Saturday, June 4, 2011. Check out other Instant Reactions or view the full Festival schedule to learn more about the many other 2011 Festival programs.
Photos by leslieimage.com (1-4) and Hannah Waters (5-10)