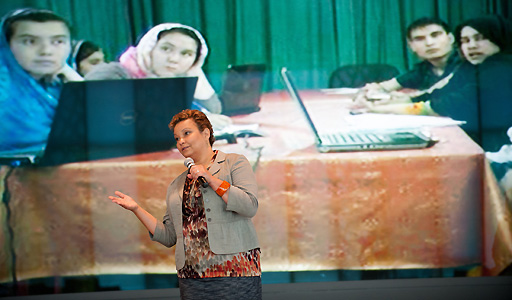 There were some hard-hitting questions from high school students at the World Science Festival's program "Pioneers in Science," which featured Lisa P. Jackson, head of the Environmental Protection Agency. During the event, students had the chance to leverage their evolving knowledge of all things science and engineering, and learn more about the woman helping shape policies for our air, water, and land.
Moderated by the energetic, award-winning reporter Juju Chang, high school students around the country and halfway around the world (even in Kabul, Afghanistan, where young girls joined the event online from an undisclosed location, owing to security risks) posed careful, insightful, and difficult questions about such controversial topics as the Keystone Pipeline, Chesapeake Bay Bay, and the U.S.'s contributions to air pollution. Even the subject of fracking was not off limits.
In an introductory video, Jackson touched on the notion of "science being politicized," and it was with similar candor that she thoughtfully answered students' questions on the challenges the EPA faces, on her own personal experiences with the Love Canal and Hurricane Katrina, and on the significance of being the first African-American woman serving as head of the EPA, a post she balances while also being a mother of two children. All in the span of an hour!
At the students' prompting, Jackson spoke about explaining scientific issues to policy makers, the process the EPA undertakes to set standards to protect the environment, and the latest in alternate energy. Through it all, she stressed the importance of the U.S. taking the lead safely and responsibly: "I try to think about solutions, not just for today, but fifty years from now."
While Jackson has 17,000 employees reporting to her, she indicated it was an incredible privilege that she takes very seriously. "We owe it to your generation to leave clean water and clean air and a healthy community," she said, and added that it takes more than the EPA to protect the environment. It takes "the will of the citizens must demand it."
One of the basic tenets of the World Science Festival is to inform, inspire, and engage the world on all things scientific. Jackson offered some advice in a similar vein for these engineers and scientists of tomorrow: "Be careful more about the doors you close."
She noted how she didn't think in her wildest dreams she could have imagined working in a Presidential cabinet. It was keeping an open mind, seeking a sense of community and cultivating a sense of teamwork that really helped her succeed.
During the session, Jackson speculated that "the jobs of the future are going to be clean energy jobs." And, as students completed their questions and posed with Jackson for photos, it was easy to imagine this group of inquisitive and knowledgeable students not only filling some of those positions someday, but pioneering some new environmental-sustainability solutions themselves.
Pioneers in Science: Featuring Elaine Fuchs takes place on Friday, June 1, at 9:00 AM at NYU Global Center, President's Colloquium Room.
Click here to get tickets