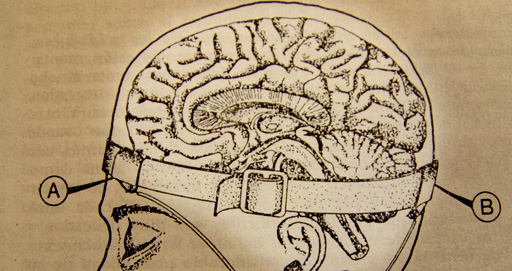 Image courtesy of La Image Del Mundo
Not long ago, I woke up in a hotel in Cambridge, Massachusetts. Waking up for me is a slow climb, and so I was still a bit bleary by the time I reached the front desk. I was checking my bags for the day, which I would be spending at a conference nearby, when I noticed a familiar face out of the corner of my eye—a face that resembled a bespectacled Viggo Mortensen. Not having self-administered my morning dose of caffeine, I couldn't quite make out who he was. The man had walked out of view towards the hotel dining room by the time my brain clicked. His name was Giulio Tononi, a scientist who studies sleep.
I'd written about Tononi, a repeat WSF speaker, for the New York Times (here and here), but I'd never met him before. So I caught up with him to say hello, and we sat down to breakfast. I was curious to find out what he'd been up to with his sleep research, because Tononi has a knack for finding out big, even philosophical insights in our dozings. Since Tononi was a teenager, he's wondered about the nature of consciousness, and as a scientist, he realized that sleep is a marvelous opportunity to pick away at its mystery. Whatever consciousness is, we lose it every night and regain it every morning. We spend our lives crashing back and forth through a wall we don't understand.
Maybe I shouldn't have used the word wall. It suggests a sharp boundary, separating two kinds of existence. Recently Tononi and his colleagues did a study of the electrical waves produced by the brains of waking rats. Scientists have long known that sleeping rats (and people) produce different wave patterns than waking individuals. Traditionally scientists have measured these waves with electroencephalography, reading the voltage changes on the scalp. Tononi and his colleagues decided to take a closer look at brain waves in waking rats by implanting electrodes into their brain. They saw a fascinating pattern when the rats were slightly sleep deprived. Scattered patches of neurons in their brains would switch to making sleep waves for a fraction of a second at a time.
The rats were not nodding off in their chow. They went about their business, looking fully awake. But when parts of their brain switched to sleep, the rats paid a price. Tononi and his colleagues offered the rats sugar pellets. The rats with napping neurons tended to miss their target, while the fully awake ones were able to grab the pellets.
It's not so easy to study people this way—with electrodes implanted in the brain—but it's not impossible. Surgeons sometimes need to remove pieces of brain tissue to treat serious cases of epilepsy that don't respond to drugs. Before they start cutting, they first insert electrodes to get a lay of the land and locate where seizures get their start. Tononi and another team of scientists took advantage of these surgeries to eavesdrop on the brains of patients as they slept.
The scientists found that the slow waves that characterize sleep didn't occur throughout the brain. In fact, they found that only local clusters of neurons switched voltage in a slow pattern. From time to time, the clusters would crackle and shift to a faster frequency—in effect, waking up. When EEGs pick up slow sleep waves, Tononi and his colleagues found, only a third of the brain was actually participating in the event. Tononi has thus found a shocking symmetry: parts of our brain sleep when we're awake, and parts of our brain are awake while we sleep.
These results might seem to leave our lives a hopeless blur of consciousness and unconsciousness. And yet we all know the different between being awake and asleep. The difference may not simply be a matter of the neurons in our brains firing in a particular rhythm. The piecemeal patterns in our sleeping brains may block the communication between different parts of the brain, preventing us from creating an integrated flow of information. Tononi has argued that we may some day even be able to measure this integration with a number, the way we measure body temperature in degrees. When we're a bit sleep deprived, we're a little less than fully conscious. And if the information in our brain disintegrates too much, we call it sleep. Or, at least we would if we were awake.
By now my consciousness meter was high enough that I could start my day. Tononi and I finished our coffee, shook hands, and went our separate wakeful ways.
Ed: This year, the WSF continues its exploration of sleep by taking a cutting-edge peek inside the sleeping brain; looking at what happens when sleeping goes wrong; and asking an age-old question: Why do we dream?
The Mind after Midnight: Where Do You Go When You Go to Sleep? takes place on Friday, June 3, at 8:00 PM at NYU Kimmel Center, Eisner & Lubin Auditorium.
Click here to get tickets