In case you missed it, the plaza at MetroTech Center was buzzing with life on June 2. Let me rephrase that—lifelike machines. Tech labs from around the country set up booths to show off their advancements, and there was no shortage of robots mingling with the crowd. These machines came in all sizes and models: rovers, robo-animals, and even androids. Here, just a few of them:
The Roving Eye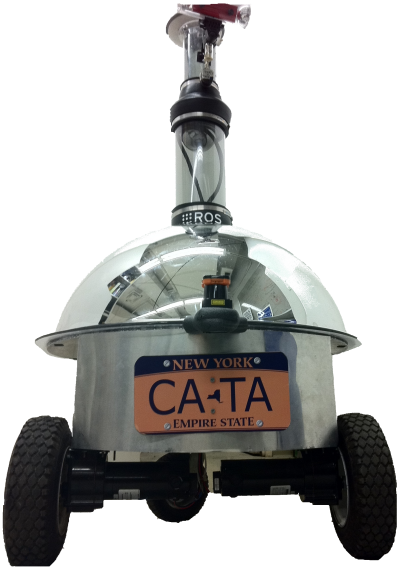 This Lost In Space-like robot can figure out by itself how to move from one GPS point to another, without hitting obstacles along the way. Its coolest feature is that the polished exterior is actually its eye. The light bounces off the pear-shaped body and enters a camera inside the base for 3600 shades of color vision. There is another camera on the top for depth and a laser on the bottom for scanning the floor. Most importantly, its programming helps it somewhat differentiate between objects in order to avoid them. Since there was a lot of glare from the sun on the day of the event, it was operated mostly by remote control, and children took turns taking it for a spin.
Slithering Helper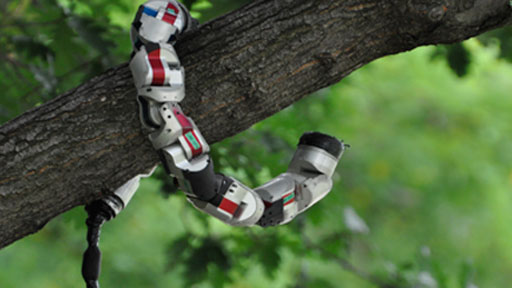 Call him Inspector Snake-bot. This robot from Carnegie Melon can check out places that people normally can't reach: inside pipes, mine shafts, collapsed buildings, and the like. It can do some really cool tricks as well, like climbing up poles or spinning across the floor. The design is as simple as it can be: a chain of identical motors linked together and connected to a long cable. There is also a camera at the front that feeds an image back to a computer.
If you think this robot is cool and wish you had one as a pet, have no fear. You can make them out of motors called hobby servos. The Carnegie Mellon lab website has more information on these snakes, including the type of motor used and different ways you can move them.

The Humanoid Soccer Star
CHARLI is the pride and joy of Virginia Tech robotics. His name stands for "Cognitive Humanoid Autonomous Robot with Learning Intelligence." That's right, this life-size bot acts and reacts all by himself. He scans your body language and then decides what to do. He is constantly learning and updating to solve problems. Some of his training includes activities like being knocked over and learning how to get up on his own. Here's a video of the training:
Just like the vehicle above, the tech team couldn't let him loose to show his full potential because he's very sensitive to sunlight. CHARLI is also the reigning soccer android champion of the world. Dennis Hong, the professor of the Virginia Tech team said that by 2050, he hopes to have his robots face off against a World Cup champion. Hopefully no head-butting will ensue.
Robofish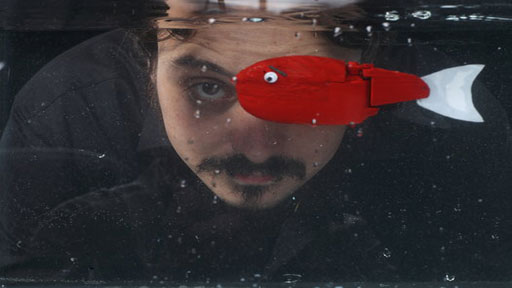 If it looks like a fish, swims like a fish, it still might not be a fish. May I introduce you to Robofish! This mechanical sea creature mimics the shape and movement of fish, which scientists can control remotely from an iPhone app. Loaded with sensors and a metal composite tail, it flaps through the water controlling its speed and direction. It can trick other fish into thinking it's one of their own, allowing scientists to study underwater life more easily and lead animals to safety during disasters like an oil spill. It also makes for a great child education toy.
Tentacles of Steel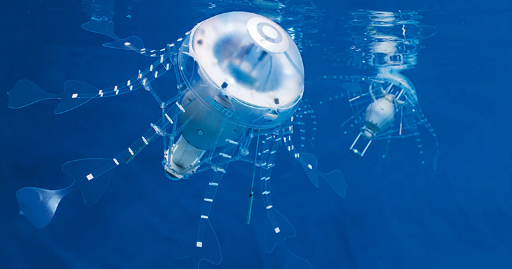 At Festo Corporation's tent, you can't help but gaze at the robotic jellyfish in its aquarium tube. A piston-like mechanism at the base of the robot rises and falls, forcing the tentacles to flutter out and then push against the water for lift. The serene robot deftly avoids bumping into walls, using a pulley system to maintain its center of gravity and LED sensors to see around it. It's also equipped with a pressure sensor so that it can gauge its depth. Most importantly, all of its actions are automated. Festo is using the jellyfish and other robots as test subjects to improve the way technology interacts with its surroundings when left untouched. They are currently using the tentacles to create new grip mechanisms that adapt depending on position.