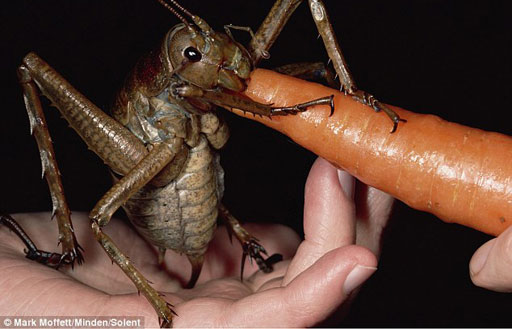 To the relief of insect-fearing people everywhere, the world's largest insect turns out to be happily vegetarian. The image above of New Zealand's cricket-like giant weta—the recently discovered largest-known insect—being hand-fed a carrot was captured by none other than entomologist and adventurer Mark Moffett, a repeat participant and good friend of the World Science Festival. In regards to the weta, Moffett described the beast of an insect to the Daily Mail with his characteristic wry wit:
"She enjoyed the carrot so much she seemed to ignore the fact she was resting on our hands and carried on munching away. She would have finished the carrot very quickly, but this is an extremely endangered species and we didn't want to risk indigestion."
Don't miss Moffett ("Dr. Bugs") tonight, as he'll be sharing tales of insects and adventure as a guest on Conan O'Brien. If you think the giant weta is wild, watch as Moffett describes his more dangerous —yet decidedly hilarious —exploits in our Spotlight program, "Do Not Touch the Frog". He pursued the world's deadliest frog despite episodes of botched transportation, quicksand, poisoned darts, and sunburn in the jungles of South America, showing just how far a love of nature and a sense of humor can take you.
And this is why we love Mark.
More videos of Mark Moffet
More about the Weta discovery