Madness Redefined:
Creativity, Intelligence and the Dark Side of the Mind
Date & Time
Thursday, May 31, 2012
8:00 PM - 9:30 PM
Download iCal reminder »
Location
The Kaye Playhouse at Hunter College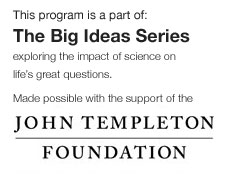 The notion of a "tortured genius" or "mad scientist" may be more than a romantic aberration. Research shows that bipolar disorder and schizophrenia correlate with high creativity and intelligence, raising tantalizing questions: What role does environment play in the path to mental illness? Are so-called mental defects being positively selected for in the gene pool? Where's the line between gift and deficit? As studies mount supporting the storied link between special aptitudes and mental illnesses, science is reexamining the shifting spectrum between brilliance and madness.
See all content from Madness Redefined
Watch this program
This program is part of The Big Idea Series, made possible with support from the John Templeton Foundation.
Moderator
Cynthia McFadden

Cynthia McFadden is co-anchor of the celebrated news broadcast, Nightline. For the past 18 years, she has travelled the world reporting for ABC News. Her distinguished work has won many of broadcasting's most coveted awards including the Emmy, the Peabody, the Dupont and the Foreign Press Award. More »