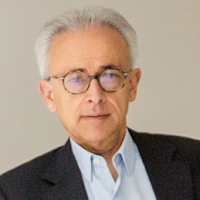 Neuroscientist
Antonio Damasio is one of the world's leading neurologists and neuroscientists and has made seminal contributions to the understanding of how the brain processes emotion, decision, and consciousness. Some of these have been described in his books Descartes' Error, The Feeling of What Happens, and Looking for Spinoza, which have been translated into over 30 languages.
Dr. Damasio is the recipient of numerous academic honors and awards, including the 2005 Asturias Prize in Science and Technology and the 2004 Signoret Prize, which he shared with his wife Hanna Damasio. He is David Dornsife Professor of Neuroscience and Director of the Brain and Creativity Institute at the University of Southern California, and an adjunct professor at the Salk Institute in La Jolla, California.
Dr. Damasio's new book, Self Comes to Mind, will be published by Knopf/Pantheon in fall, 2010.