Bevil Conway
Neuroscientist, Artist
Bevil Conway, originally from Zimbabwe, is an artist and neuroscientist who researches the neural basis for visual behavior, with a focus on color vision, and investigates the relationship between visual processing and visual art. His artwork is held in numerous private collections and the Fogg Museum, and has been published in several books, including as the frontispiece for Brain and Visual Perception (Oxford University Press, 2005), the landmark work by Nobel Laureates David Hubel and Torsten Wiesel.
Dr. Conway, who writes and lectures widely on the intersection between neuroscience and art, is the author ofNeural Mechanisms of Color Vision (Kluwer, 2002).
He is the Knafel Assistant Professor of Natural Science and Neuroscience at Wellesley College, and his research laboratory is located at Wellesley College and the Department of Neurobiology, Harvard Medical School. His art studio is in Cambridge, Mass.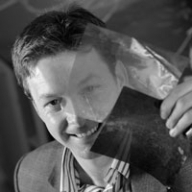 Recent Videos