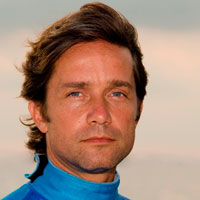 Explorer, Environmental Advocate
Fabien Cousteau is an ocean explorer, the third generation to carry on the tradition of adventure pioneered by his grandfather Jacques Cousteau. His Natural Entertainment company works to raise environmental awareness through television and other media.
Living a childhood dream of "becoming a shark," Cousteau orchestrated a three-year expedition to study the much feared great white shark in his innovative shark-shaped submersible, as chronicled in the 2006 CBS show "Shark: Mind of a Demon." He also joined with his father, Jean-Michel Cousteau, and sister, Celine Cousteau, on a PBS series, "Ocean Adventures."
Cousteau is on the board of the New York Harbor School and the Blue Ocean Film Festival, and is a part of the Water Innovation Alliance which brings water issues to the attention of business executives. He is also creating a new foundation, the Plant-a-Fish Initiative, to educate the public on the need to restore our marine habitats.