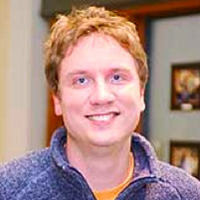 Mathematical Biologist
Iain Couzin is Assistant Professor in the Department of Ecology and Evolutionary Biology at Princeton University. He studies the actions and interactions that give rise to collective behavior—from marching ants and swarming locusts to flocking birds and crowds of people—and what we might learn from successful swarming.
Dr. Iain Couzin is an assistant professor in the Department of Ecology and Evolutionary Biology and associated faculty in Applied and Computational Mathematics at Princeton University since 2007. Previously, he was a Royal Society University Research Fellow in the Department of Zoology, University of Oxford, and Junior Research Fellow in the Sciences at Balliol College. His research is widely published in leading international journals including Nature, Science, Proceedings of the National Academy of Sciences USA and Current Biology.
In recognition of his innovative research he was recipient of a Searle Scholar Award in 2008 and the Mohammed Dahleh Award and Distinguished Lectureship form the University of California Santa Barbara in 2009.