John Robinson
Rapper, Performer
The fundamentals of foundational hip-hop pulsate vibrantly through the veins of the multi-dimensional artist, John Robinson. Born in the South Bronx and raised in Far Rockaway, Queens and Central NJ, this native New Yorker has sojourned and resided in the underground scenes of New York, New Jersey, Atlanta and Los Angeles with the result of creating a sound that is universally magnetic to hip-hop audiences of various backgrounds.
Robinson AKA Lil Sci of the World Renowned UNDERGROUND Hip-Hop group Scienz of Life, rekindles his alter-ego to audio-biographically introduce his new chiseled personality that spits nothing less than lyrical perfection. Inspired by hip-hop legends such as KRS-1, Slick Rick, Brand Nubian and KMD to name a few, JR has been rocking mics since before he had peachfuzz. These same legends helped Robinson to mold himself to a scientific sort of political advisor that enjoys speaking to audiences both en masse and one person at a time. And having performed with the likes of The Roots, Common, Talib Kweli, Mos Def, Dead Prez, Run DMC, MF DOOM and many others nationally and internationally (i.e. Italy, Switzerland, Germany, UK, Sweden, France, Japan, South Africa and more) John Robinson is a proven performance aficionado. If that weren't enough this super energetic emcee, well seasoned in the marketing side and the creative side of urban music has deal with the business hands on. As the President of Indie label Shaman Work Recordings for several years, Robinson has learned more than a handful about this business and definitely plans to share the Gems.


In a world of rancidly-stale excuses for music, this visionary brings forth a musical healing that is probably one of the reasons hip-hop hasn't plunged into the bottom of the sea. And with a catalogue of more than 10 full length albums and various releases that date back to 1996 Debuting officially on Bobbito Garcia's Fondle'em Records with his group Scienz of Life, it's a definite blessing to the world, that John Robinson rhymes. Upon indulging in his music, listeners will be swept away by the soulfully rich tracks, stitched to Robinson's warm and melodic utterances of messages as down to earth as Studio One style reggae music but cutting edge and ahead of it's time. The ultimate performer, this Aries dragon isn't just a lyricist but a producer and future music business mogul as well, and he uses each of these talents to concoct a musical package that stands to be heralded as a top-flight hip-hop classic. Just call him the Jazz Cat whose instrument happens to be a microphone!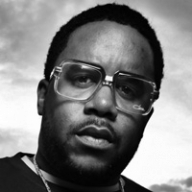 Recent Videos