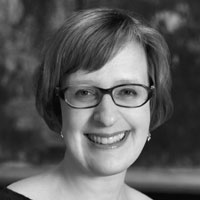 Curator, Art Historian
Kathryn Calley Galitz is a scholar of late eighteenth- and early nineteenth-century French art. At The Metropolitan Museum of Art, Galitz has organized international exhibitions on artists including Chassériau, Girodet, and Turner. She was a member of the curatorial team awarded Best Historical Show 2008 by the International Association of Art Critics for Gustave Courbet.
Galitz is a frequent lecturer, has appeared on radio and television, and has been a fellow at the Hermitage Museum, Attingham Summer School, and the Art Institute of Chicago. She also authored numerous works on Neoclassical painting, including "The Family Paradigm in French Painting, 1789-1814," "Jacques-Louis David's Portrait of Comtesse Vilain XIIII and her Daughter," and "Gérard's Madame de Talleyrand: Portraiture, Scandal, and the Art of Power" (forthcoming Metropolitan Museum Bulletin).
Photo credit – Eileen Travell