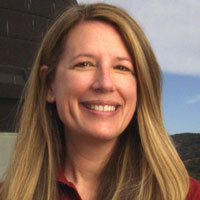 Curator, Astronomer
Laura Danly is a spectroscopist specializing in ultraviolet observations from space satellites. Her research focuses on the large-scale distribution and dynamics of the interstellar medium and its relationship to galaxy evolution.
Dr. Danly is the co-author of Chaos to Cosmos: A Space Odyssey (2003.) Observant Star Trek: Enterprise fans may recognize her as the author of the fictional The Cosmos A to Z, "the essential guide to space, the final frontier!" that encouraged Enterprise Captain Jonathan Archer to join Starfleet.
As the Curator of Griffith Observatory in Los Angeles, Calif., Dr. Danly develops and implements all of the Observatory's astronomical, educational, theatrical, gallery, and telescope programs. While at the Denver Museum of Nature and Science previously, she developed Space Odyssey, a hands-on exhibit that allows young people to explore the cosmos, make their own discoveries and walk away dazzled by the wonder of it all.