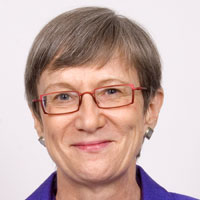 Art Historian
Linda Dalrymple Henderson is the acknowledged expert on the history of modern artists' engagement with a possible fourth dimension of space, a widespread cultural preoccupation in the early 20th century before the popularization of the temporal fourth dimension of Einstein's Relativity Theory.
Professor Henderson is the author of The Fourth Dimension and Non-Euclidean Geometry in Modern Art and Duchamp in Context: Science and Technology in the Large Glass and Related Works. A speaker at the 2005 Einstein Centennial symposium in Berlin, she also contributed the essay "Einstein and 20th-Century Art: A Romance of Many Dimensions" to the resulting anthology Einstein for the 21st Century.
The David Bruton, Jr. Centennial Professor in Art History and Regents Outstanding Teaching Professor at the University of Texas at Austin, her teaching and research center on 20th-Century European and American art in cultural context and, specifically, in relation to geometry, science and technology.