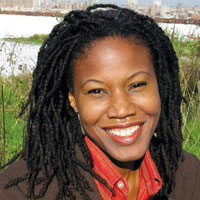 Urban Revitalization Strategist
Majora Carter is a green economic consultant who combines social, economic development, and region-wide infrastructure needs into positive feedback systems. She has been a driving force behind some of NYC's most progressive environmental legislation, as well as cultural acceptance of sustainable practices. She founded Sustainable South Bronx (SSBx) in 2001, to change that area's environmental and economic outlook for the better. By 2003, SSBx had launched one of the country's first and most successful green-collar job training and placement systems. She also wrote a $1.25M Federal Transportation Dept grant to plan and design the South Bronx Greenway – an 11-mile network of storm water management, economic development, congestion alleviation, and healthy living infrastructure. In 2008, she left the non-profit founded to consult worldwide. She hosts her own nationally broadcast public radio special series, The Promised Land; and also hosts Eco-Heroes on Sundance Channel's, The Green. Majora currently serves on the National Academies of Science Climate Choices working group and is on the board of Ceres, SJF, and The Wilderness Society.
She is a graduate of Bronx High School of Science, a MacArthur Foundation "genius" Fellow, the first distinguished alumna of her class at Wesleyan University, and holds several honorary Ph.D.'s.