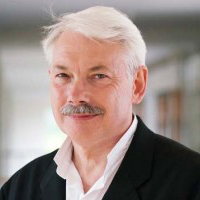 Director and Head of Global Planning of Arup
Peter Head is a civil and structural engineer who has become a major proponent and practitioner of sustainable urban design. He applies "biomimetics" — an engineering approach that looks to systems in nature to design efficient structures and systems in the manmade world that produce little if any waste.
Since 2004, Head has been a director of Arup, a global engineering and design firm. As head of the company's Planning and Integrated Urbanism team, he is directing the design and development of Dongtan – China's first total "eco-city" near Shanghai, in addition to other new cities in Asia. In 2002, he was appointed by the mayor of London to the city's Sustainable Development Commission, charged with making the London 2012 Olympics a carbon-neutral event. He leads the commission's planning and development subgroup. Earlier in his career, Head established himself as a world-renowned authority on steel bridge and advanced composite materials technology.
Head has received numerous awards, including a 1995 Royal Academy Silver Medal for outstanding contribution to British industry and the Prince Philip Award for Polymers in the Service of Mankind. In January 2008 he was named by London's The Guardian newspaper one of "50 Global Green Heros who could Save the Planet."