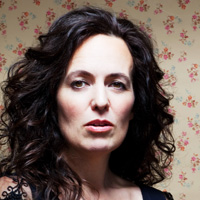 Singer, Songwriter
One of the strongest, most expressive voices to have come out of Ireland belongs to Dublin native Susan McKeown. Her 2010 album Singing in the Dark explores creativity and madness with lyrics from poets such as Anne Sexton and Theodore Roethke, who were writing through the lens of depression, mania and addiction.
Based in New York since 1990, McKeown's powerful pipes and adventurous musical spirit marked her as a distinctive talent upon the release of her debut album Bones in 1995. The Grammy-winning vocalist and BBC Folk Award nominee has gone on to record thirteen more albums spanning the realms of world music and rock. She also conceived and produced Songs from the East Village, a world music album for families, which was featured on NPR's Weekend Edition. McKeown has performed throughout Europe and North America with artists such as Pete Seeger, Natalie Merchant, Billy Bragg and The Klezmatics.
With the poet Paul Muldoon, McKeown is artistic director of Feis Teamhra, an annual festival of poetry and music at the ancient site of Tara in Ireland. She also curates SongLives, a songwriter series at New York's Irish Arts Center.