Vanessa Woods
Author, Research Scientist
Vanessa Woods is an award-winning journalist and author who studies the cognitive development of chimpanzees and bonobos at sanctuaries in the Republic of Congo and the Democratic Republic of Congo.
In addition to Bonobo Handshake (Gotham 2010), she has written three children's books: It's True! There Are Bugs In Your Bed (2005); It's True! Space Turns You Into Spaghetti (2006, and winner of the Acclaimed Book award from the Royal Society, UK); and It's True! Pirates Ate Rats (2007).
Woods is a Research Scientist at Duke University, and is on the Board of Directors for Friends of Bonobos, the U.S. charity that supports Lola ya Bonobo. Part of her author profits will go to the organization, to help bonobos in Congo.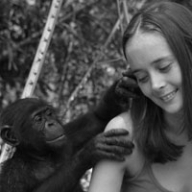 Recent Videos