Alyson Tockstein
Education and Outreach Associate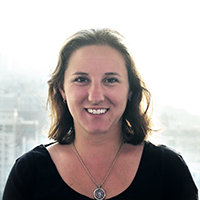 Alyson Tockstein is currently the Education and Outreach Associate at the World Science Festival. Working alongside the Associate Director of Education and Outdoor Programming, her work entails expanding and coordinating the World Science Academy, the Great Fish Count and Apprentice Programs.
Previously, Alyson spent two years at Talcott Mountain Science Center and Academy and St. Mary's School in Simsbury as a Science Instructor and Science Fair Coordinator, where she designed and taught the curriculum in all the major sciences. Prior to Talcott, Alyson spent one year at the American Museum of Natural History in the Exhibition department while conducting research and studying at Columbia University. She worked on several temporary exhibits including Food, Race to the End of the Earth, and the World's Largest Dinosaur. Alyson also spent two years working with Dr. Brian Helmuth at the University of South Carolina as a Research and Lab Assistant. She managed the long-term study database of inter-tidal zones internationally and conducted fieldwork in California, South Carolina, and Chile. She continues her research at the Maritime Aquarium in Norwalk, Connecticut where she is an educator and crew member on their research vessel.
Alyson majored in History, focusing on the History of Science from the University of South Carolina. She has a Masters from Columbia University in Museum Anthropology. Her research includes studying science exhibits in museum culture and the public sector and intertidal ecosystems.