Laura Dattaro
Editorial Production Assistant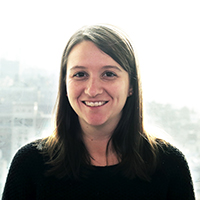 Laura Dattaro is currently the Editorial Production Assistant at the World Science Festival.
Previously, Laura worked as a freelance journalist, writing for outlets like the Columbia Journalism Review, symmetry magazine, Hakai Magazine, and VICE News. She covered topics including environmental science and policy, particle physics, and robotics, and her work was honored by the National Federation of Press Women and the Delaware Press Association. She also worked as a fact-checker for several publications, including Quanta, Audubon, and Discover magazines. Prior to that, Laura worked at the Weather Channel as an assistant science editor, and later associate editor. She wrote and edited stories for the science vertical of Weather.com and assisted with news coverage during severe weather events.
Laura has a master's degree in science and health journalism from Columbia University and a bachelor's degree in English and music from the University of Delaware.