Andon Baltakov
Chief Operating Officer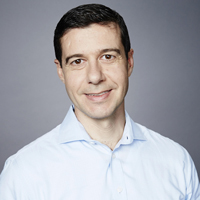 Andon Baltakov is the Chief Operating Officer of the World Science Festival, overseeing the daily operations of the organization.
A digital expert with more than 20 years of experience in the information industry, Andon was most recently the COO of Storyful, a social insights and content agency. Prior to that, as the VP, Product Management at ProQuest, Andon oversaw a rich portfolio of news products and services, designed for academic and research institutions worldwide. Before joining ProQuest, Andon was the Senior Director of Business Operations for CNN Digital, where he drove the tactical execution of CNN's digital strategy and managed CNN's digital video syndication business. Andon joined CNN from The Associated Press, where, as the deputy director of the strategic planning department, he was a central player in crafting and communicating AP's global business strategy and implementing projects that accelerated AP's digital development.
Andon began his career as a news producer and a newscaster at the Bulgarian National Radio and later on at the BBC World Service in London.
Andon holds an MBA from the Yale School of Management.