Kimberly Cionca
Multimedia Production Coordinator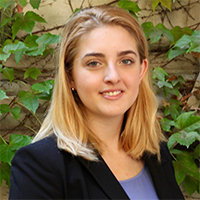 Kimberly Cionca is the Multimedia Production Coordinator for the World Science Scholars program, an educational initiative which seeks to enrich the perspective of extremely talented young math students and inspire them to utilize their skills to tackle some of the world's greatest challenges.
Previously, she worked at The Metropolitan Museum of Art on #MetKids, creating content for the digital feature's video channels, coordinating the blog, and co-organizing a week-long Animation Lab. She also has 8 years of experience in video editing and is dedicated to creating engaging and educational digital content for all audiences.
Kimberly received a Bachelors of Arts degree in History and Environmental Science at Barnard College of Columbia University.