Megan Innes
Education Production Assistant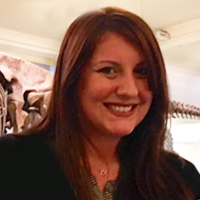 Megan Innes is currently the Education Production Assistant at the World Science Festival. She works with the World Science Scholars program to bring exceptional digital learning experiences to students around the world.
Previously, Megan spent three years working in Seattle museums as a Digital Education Specialist, including working with the Museum of Flight in their Washington Aerospace Scholars program and the Living Computer Museum & Labs with their gallery interpretation strategy and public program events. Prior to the Museum of Flight and Living Computer Museum, Megan spent four years at the Intrepid Sea, Air, and Space Museum as their Digital Education Coordinator, focusing on establishing a MakerSpace on board an aircraft carrier and introducing digital learning initiatives to the Education Department. 
Megan has a B.A. in Anthropology and Media Studies from Fordham University and an M.A. in Museum Studies from NYU. Megan spent two summers in Peru as an archaeologist, studying the Moche culture at San Jose de Moro before working with museums and informal learning.