Mer Stern
Editor/Videographer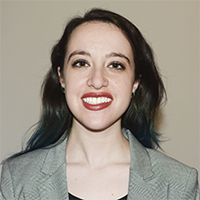 Mer Stern is currently an editor and videographer at the World Science Festival. She is responsible for editing media for festival events, YouTube content, and online courses for young scholars, as well as filming and photographing year-round educational events.
Before joining the WSF team, Mer worked on content for networks including Syfy, USA Network, History, and Discovery Channel. Traveling further back in time, Mer graduated from the University of Pennsylvania with a major in Cinema Studies and minors in Fine Arts and Creative Writing.
Aside from being an editor and videographer, Mer is also a photographer, musician, and writer, but she would describe herself as being a visual storyteller to keep things both relatively simple and annoyingly abstract. Mer's training was in documentary filmmaking, and she strives to create content that can make a positive impact in the world.