Roe Intrieri
Senior Marketing Creative Manager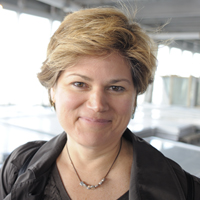 Roe Intrieri is currently the Senior Marketing Creative Manager at The World Science Festival. She is responsible for managing and coordinating creative projects and timelines. Roe collaborates with the creative, media, editorial, education, and development teams. Previously Roe was an award-winning creative director at Story Worldwide, responsible for content, design, and magazine production; iPAD issues; newsletters; websites; annual reports; and direct mail. She also managed the photo and production teams.
Prior to Story, Roe spent five years at the Publishing Agency, where she launched eight magazines. Earlier in her career, she worked as the art director at the School of Visual Arts Press. At SVA, Roe defined the design direction and managed production of all school communications.
Roe has a bachelor's degree in graphic design from the School of Visual Arts. For fun Roe runs the youth group at her church where all the kids are taller then she is. She makes up for her short stature with her enthusiastic personality.