David Ng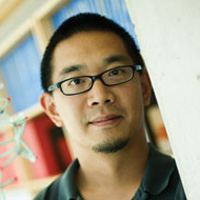 Science Educator
David Ng is a faculty researcher at the University of British Columbia's Michael Smith Laboratories, where he heads a science education lab aimed at training researchers, engaging students in the life sciences, and informing the public on the societal, political, economic and ethical nuances of the sciences. An immunologist and biochemist by training, Ng has been running the laboratory, originally conceived by the late Nobel Laureate Michael Smith, since 1999. The lab hosts a wide range of programs for a diverse range of audiences, but is particularly active with public schools, organizing field trips, scientific conferences for high school students, and symposia focused on nurturing science writing.
Recently, when he heard of data showing that most kids know more about Pokémon characters than they do about the plants and animals in their neighborhoods, Ng set his lab to work on the Phylo project, a crowd-sourcing initiative gathering together artists, scientists, gamers, educators and museum staff to create a biodiversity-themed trading card game.
In addition to his scientific publications, Ng has written humor for McSweeney's, essays for the Canadian magazine The Walrus, and blog posts for BoingBoing.net, and he is currently working on a book illustrating why it is crucial for society to understand "the freakishly awesome power of the scientific method." He edits the Science Creative Quarterly, an online compendium of creative writing about the sciences.