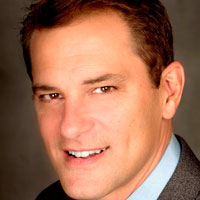 Neurologist, Epidemiologist
Robert C. Green has worked for more than 20 years on the genetics of Alzheimer's disease and is currently developing a national research agenda for translational genomics and personalized medicine.
Professor of Neurology, Genetics and Epidemiology at Boston University Schools of Medicine and Public Health, Dr. Green is the Principal Investigator and Director of the REVEAL Study, a project funded by the National Human Genome Research Institute to develop genetic risk assessment strategies for family members of patients with Alzheimer's disease. The REVEAL Study is the first to use randomized clinical studies to explore the impact of genetic susceptibility testing and disclosure.
Widely published, he is Director of the Center for Translational Genomics and Health Outcomes at Boston University School of Medicine; Co-Director, Alzheimer's Disease Clinical & Research Program and a Fellow in Genetics at Harvard Medical School. He has been voted one of America's "Best Doctors" by his peers.