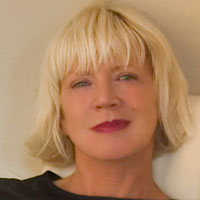 Scent Researcher, Artist
As a professional "in-betweener," Sissel Tolaas's work focuses on smell, language, and communication while spanning science, art, and industry. She has identified the smell molecules in worn coats and covered the walls of an MIT gallery with chemically reproduced molecules from the sweat of men who suffer fear attacks. Tolaas's projects combine aspects of the academic, the offensive, and the surreal.
Tolaas has performed smell studies for companies including BBC Imagineering, Adidas, and the Sony Computer Science Lab. She has exhibited in museums like San Francisco MOMA, the Tretiakov Gallery in Moscow and the National Art Museum in Beijing and has spoken at academic institutions around the world including Beijing's Tsinghua University, Oxford, Cambridge and Harvard. At Columbia she presented the smell of communist East Berlin. Her research has won recognition through numerous national and international scholarships, honors, and prizes including the 2009 Rouse Foundation Award from Harvard University GSD and the 2010 ArsElectronica Award in Linz, Austria. The 2010 Synthetic Aesthetics Award from Stanford and Edinburgh universities included a residency at Harvard Medical School. In 2004, Tolaas established the RE_searchLab Berlin with support from International Flavors & Fragrances, Inc.