Anna Deavere Smith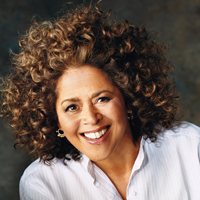 Actor, Playwright
Anna Deavere Smith has been hailed by Newsweek as "the most exciting individual in American theater." She began interviewing people across the country 20 years ago. Without props, sets, or costumes, she translates those encounters into profound performances, each drawing verbatim from the original recorded interview. The New York Times commented that "Anna Deavere Smith is the ultimate impressionist — she does people's souls." She has won numerous awards, among them two Obies, two Tony nominations, and a MacArthur fellowship. She was runner-up for the Pulitzer Prize for her play Fires in the Mirror.
Other plays include: Twilight: Los Angeles, 1992 and House Arrest. Her newest play, Let Me Down Easy, addresses the subject of health care. She wrote the libretto for Judith Jamison's ballet Hymn. Television shows include: Presidio Med, The West Wing, The Practice, and the new Showtime television series, Nurse Jackie. Films include The American President, Dave, The Human Stain, and Rachel Getting Married. Her books include Talk To Me and Letters to a Young Artist.
A professor at New York University, she is the founding director of the Institute on the Arts and Civic Dialogue, a center for artistic excellence addressing social change. She serves on the boards of the Museum of Modern Art and the Aspen Institute. She has received several honorary degrees.