David Morse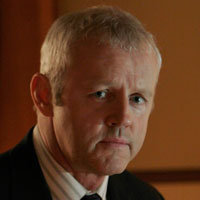 Actor, Screenwriter
David Morse has long been recognized as an actor of great talent and versatility in film, television, and theater. His most recent film credits include Drive Angry opposite Nicholas Cage, Passengers with Anne Hathaway and the Oscar-winning film The Hurt Locker directed by Kathryn Bigelow. Morse made his motion picture debut in Richard Donner's acclaimed drama Inside Moves, and then went on to star in two Sean Penn directed dramas, The Indian Runner and The Crossing Guard (Independent Spirit Award nomination – Best Supporting Actor). Other notable film credits include The Slaughter Rule, Hearts in Atlantis, The Green Mile, Dancer in the Dark, Proof of Life, The Rock, The Negotiator, 12 Monkeys, and Disturbia.
In television, Morse is currently on the HBO critically acclaimed show Treme, created by Emmy Award Winner David Simon. He played George Washington in the HBO mini-series John Adams for which he received an Emmy Nomination for Best Supporting Actor in Miniseries. He played a rival to Hugh Laurie's character in a multi-episode arc on the critically acclaimed television series House, for which he received an Emmy Nomination for Outstanding Guest Appearance. Morse is best known for his role as Dr. Jack "Boomer" Morrison in the Emmy- winning ensemble drama, St. Elsewhere.
On stage, Morse most recently starred as part of the ensemble cast in the Tony Nominated Broadway play The Seafarer, directed by Conor McPherson. Morse has appeared in numerous Off-Broadway productions, including Paula Vogel's Pulitzer Prize-winning drama, How I Learned to Drive, for which Morse won the Drama League Award, the Lucille Lortel Award, the Drama Desk Award, and the Obie Award for his starring role. Morse won Drama League and LA Weekly awards for his performance in the Los Angeles production of Of Mice and Men.