Erich Jarvis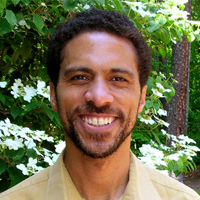 Neurobiologist
At Duke University, neurobiologist Erich Jarvis leads a team that studies the abilities of songbirds, parrots, and hummingbirds to learn new sounds and pass along a vocal repertoire into the next generation. His research in the neurobiology of vocal learning has led to the discovery of natural behaviorally regulated gene expression in the brain, social context-dependent gene regulation, convergent vocal learning systems across distantly related animal groups, the FoxP2 gene in vocal learning birds, and the recent finding that vocal learning systems may have evolved out of ancient motor learning systems.
In 2002, the National Science Foundation awarded Jarvis its highest honor for a young researcher, the Alan T. Waterman Award. In 2005 he was awarded the National Institutes of Health Director's Pioneer Award providing funding for five years to researchers pursuing innovative approaches to biomedical research. In 2008 Dr. Jarvis was selected to the prestigious position of Investigator for the Howard Hughes Medical Institute (HHMI).
Dr. Jarvis received his undergraduate training in Biology and Mathematics at Hunter College in New York City and his doctorate in Molecular Neurobiology and Animal Behavior from the Rockefeller University in New York City.