Harrison Ford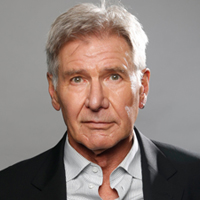 Actor
Over the course of his career, Harrison Ford has become one of the most popularly acclaimed actors of our time. His body of work includes 41 feature films, eleven of which have exceeded $100 million each at the box office. Through his starring roles in such cinematic blockbusters as the Star Wars and Indiana Jones trilogies, The Fugitive, Air Force One and Patriot Games, he has come to embody the quintessential American hero for moviegoers around the world.
Strongly committed to environmental concerns, Ford is actively involved in a number of conservation groups. He serves as Vice Chair on the Board of Directors of Conservation International. He also is an Honorary Chair of the Indianapolis Prize, the world's leading award for animal conservation.
His recent awards are: Heart of the City Award from City Harvest for fighting hunger, NRDC – Forces for Nature, the Lindbergh Foundation for balance between technology and the environment, the Distinguished Humanitarian Award from B'nai B'rith (also for his environmental work), the World Stunt Awards, the Lifetime Achievement Award from the Laguna Playhouse and on May 30, 2003 he received a star on the Hollywood Walk of Fame.
Other awards have included the World Ecology Award from the International Center for Tropical Ecology and the Global Environmental Citizen Award from the Center for Health & Global Environment.
In 2006 he received the Independent By Nature Award from the Aspen Film Festival and the Spirit of Nature Award from the Jules Verne Adventure Film Festival which honored him not only for his work in film but also his work with regard to environmental issues. Also in 2006, he received the Tower Award for excellence in the Arts at the 4th Russian Nights Festival. In 2008 he was honored for his role as an advocate for environmental issues from Oceana.