Keith Oatley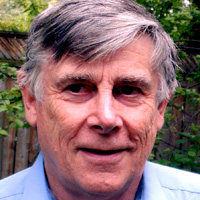 Psychologist, Novelist
Keith Oatley has spent the last twenty years researching the psychology of reading and writing fiction, as both a scientist and the author of three novels. He is known for his theory that fiction is a kind of simulation that runs in our minds, teaching us how emotional and social worlds function. His research has shown that reading fiction can increase empathy and prompt psychological change in readers.
Oatley's first novel, The Case of Emily V., follows Sigmund Freud and Sherlock Holmes as they work on the same case of a young woman who seems to have killed her guardian. The book won the 1994 Commonwealth Writers Prize for Best First Novel. His other novels are A Natural History, which explores the psychology of a scientist in 1849 as he strives to understand the nature of infectious disease, and most recently Therefore Choose, about how we have to make decisions and be responsible for them, whether or not we know how they will turn out.
Oatley is professor emeritus of applied cognitive psychology at University of Toronto. As well as the psychology of fiction, he has researched physiological psychology, visual perception, artificial intelligence, human-computer interaction, and the psychology of emotion. He studied at the University of Cambridge and University College London and worked at the University of Sussex and University of Glasgow before taking up his post in Toronto.