LeVar Burton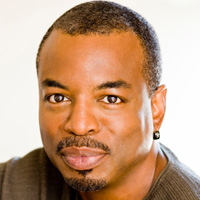 Emmy Award-Winning Actor, Director
LeVar Burton has been capturing the admiring attention of both audiences and his industry peers for three decades and continues to enjoy longevity truly rare within the industry. His deftness in avoiding stereotype continues to be a hallmark of an incredibly diverse career. Whether acting, directing, producing or writing, LeVar has demonstrated, over time that he can do it all. No greater proof of his enduring appeal and deep personal connection with his audience is the fact that LeVar is one of the most followed people in the world on Twitter, with over 1.7 million followers.
As if following some implausible Hollywood scenario, LeVar's first professional audition, while pursuing his undergraduate studies at USC, led to his being cast as Kunta Kinte in the acclaimed miniseries Roots. The phenomenal success of Roots launched his career as an actor, and more importantly, earned his performance as Kunta Kinte, lasting status as a worldwide icon representing the indomitability of the human spirit.
An avowed science-fiction buff as well as a devoted fan of the unique vision of Gene Roddenberry, LeVar considers his longtime association with the Star Trek franchise nothing short of a dream come true. Having both appeared in and directed a plethora of Trek incarnations over the years, LeVar adamantly adheres to his optimistic point of view of the future saying, "I'm betting on our ultimate success at rising to our highest level of human expression."
After twenty-five seasons as the host and executive producer of the highly acclaimed PBS children's television series Reading Rainbow, LeVar ended his long time commitment to the television show in favor of exploring other avenues of creative expression. While taking great pride in the series' role in garnering him a total of 13 Emmy Awards, five NAACP Awards, and numerous nominations, he continues to be most proud of Reading Rainbow's ability to "use the medium of television to help create generations of Americans who are passionate readers".
Today LeVar is primarily focusing his energy behind the camera as a successful film and TV director. He has directed television as diverse as all four Star Trek series, Charmed, Las Vegas and more. His first dramatic television movie, The Tiger Woods Story, for Showtime, received three Emmy nominations. His Disney Channel film Smart House remains one of the most popular original movies in the channel's history. His first full-length feature film, Blizzard, received numerous accolades including Best of Fest at the 2006 Chicago International Children's Film Festival and had joined the pantheon of classic Holiday movies.
Burton's newest endeavor is the launch of a new production company, formed with his business partner, producer Mark Wolfe. Burton/Wolfe Entertainment is a cross-platform media company producing television programs, feature films, and original web content. BWE has lined up numerous strategic partnerships with networks, distribution companies, and internet portals.
In 2011, he guest starred in episodes of two highly popular and critically acclaimed TV shows, The Big Bang Theory and Community. He signed to co-star in the 2012 TNT TV series, Perception with Eric McCormack. In September LeVar announced the 2012 return of Reading Rainbow as a multi-faceted new media venture under Burton/Wolfe's RRKIDZ banner. Burton serves as curator of this exciting enrichment children's brand, and (along with Wolfe) as the company's co-founder.