Michael York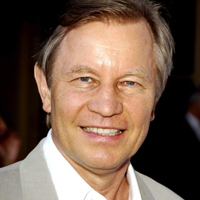 Actor, Author
After graduation from Oxford in 1964, Michael York joined the National Theatre company, making his film debut in The Taming of the Shrew. His more than 60 other screen credits include Romeo and Juliet, Cabaret, Jesus of Nazareth, The Three Musketeers, Logan's Run, Murder on the Orient Express, Conduct Unbecoming, The Omega Code and all three Austin Powers movies.
York's television work includes The Forsyte Saga, Great Expectations, Space, The Far Country, The Heat of the Day, Curb Your Enthusiasm, The Simpsons, as well as The Lot, for which he received an Emmy nomination. Among his Broadway credits are Someone Who'll Watch Over Me, Bent, The Crucible, and Camelot. He has narrated concert versions of Henry V, Peer Gynt, Mozart's The Abduction from the Seraglio, and Amadeus, and he has recorded over 70 audio books, including Treasure Island, for which he was nominated for a Grammy, and Stephen Hawking's The Theory of Everything. He is currently recording the entire Bible.
His autobiography, Accidentally on Purpose, was followed by A Shakespearean Actor Prepares, Dispatches from Armageddon and, most recently, Are My Blinkers Showing? York has lectured internationally, and has been awarded Britain's OBE, France's Arts et Lettres, and a Star on the Hollywood Walk of Fame.