Olufunmilayo Olopade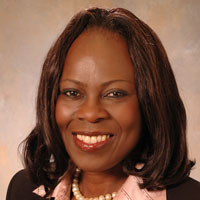 Oncologist
Olufunmilayo Olopade is a Walter L. Palmer Distinguished Service Professor and Associate Dean for Global Health at The University of Chicago Medical Center. Olopade graduated with distinction from the University of Ibadan College of Medicine in Nigeria and completed her residency training in Internal Medicine at Cook County Hospital where she also served as chief resident. Trained broadly in clinical oncology and cancer genetics at The University of Chicago, Olopade's research has focused on understanding familial forms of cancer. Her seminal observations on the genetic basis of breast cancer in young women of African ancestry in the US and West Africa has broadened our understanding of the complex interactions of genes, lifestyle and the environment in breast cancer causation.
As a physician and scientist, Olopade works tirelessly to translate scientific discoveries at the individual and population level into optimal interventions for women at risk of breast cancer. Olopade effectively disseminates the benefits of her work, inspires students and colleagues, and is a role model for women scientists worldwide.
An international leader in academic medicine, Olopade has received numerous honors and awards, including the ASCO Young Investigator Award, the James S. McDonnell Foundation Scholar Award, the Doris Duke Distinguished Clinical Scientist Award and the MacArthur Foundation Genius Award. Olopade is a member of the Institute of Medicine of the National Academies, a fellow of the American Academy of Arts and Sciences, and a member of the National Cancer Advisory Board.