Paul D. Miller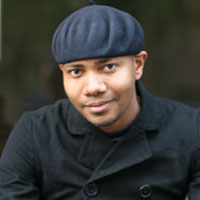 AKA DJ Spooky That Subliminal Kid
Paul D. Miller aka DJ Spooky That Subliminal Kid is a composer, multimedia artist and writer. His written work has appeared in The Village Voice, The Source, Artforum, and Rapgun among other publications.
Miller's work as a media artist has appeared in a wide variety of contexts such as the Whitney Biennial; The Venice Biennial for Architecture (2000); the Ludwig Museum in Cologne, Germany; Kunsthalle, Vienna; The Andy Warhol Museum in Pittsburgh and many other museums and galleries. His work New York Is Now has been exhibited in the Africa Pavilion of the 52 Venice Biennial 2007, and the Miami/Art Basel fair of 2007.
Miller's first collection of essays, entitled Rhythm Science came out on MIT Press 2004. His book Sound Unbound, an anthology of writings on electronic music and digital media was recently released by MIT Press. Miller's deep interest in reggae and dub has resulted in a series of compilations, remixes and collections of material from the vaults of the legendary Jamaican label, Trojan Records. Other releases include Optometry (2002), a jazz project featuring some of the best players in the downtown NYC jazz scene, and Dubtometry (2003) featuring Lee 'Scratch' Perry and Mad Professor. Miller's latest collaborative release, Drums of Death, features Dave Lombardo of Slayer and Chuck D of Public Enemy among others. He also produced material on Yoko Ono's new album Yes, I'm a Witch. Miller's large scale, multimedia performance pieces include "Rebirth of a Nation" (now on DVD), and "Terra Nova: Sinfonia Antarctica".