Robert Naczi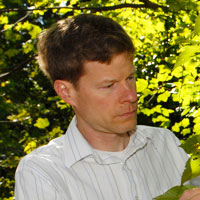 Plant Systematist
Robert Naczi is a plant systematist, who specializes in documenting the changing plant life of the Northeast. He is a leading authority on the flora of the eastern United States, the sedge genus Carex (Cyperaceae), and the Western Hemisphere Pitcher Plants (Sarraceniaceae). The pitcher plants are carnivorous plants very popular in horticulture, but whose biology is still poorly known. Naczi uses a multi-pronged approach in his research, utilizing field, herbarium, and laboratory methods. His field work has given him first-hand knowledge of the flora of much of North America.
Naczi co-authored Mistaken Identity? Invasive Plants and their Native Look-alikes: An identification guide for the Mid-Atlantic (2008). Presently, he is writing a comprehensive account of the Northeast's plants, New Manual of Vascular Plants of Northeastern United States and Adjacent Canada. He has published widely on Carex, the largest genus of flowering plants in North America (500 species) and in most temperate regions of the world (2000 species world-wide).
Previously, Naczi was herbarium curator, graduate professor, and founding director of the Scanning Electron Microscopy Laboratory at Delaware State University. In late September 2008, he started his job as curator of North American Botany at The New York Botanical Garden.