Francisco Ayala
Biological Scientist
Called the "Renaissance Man of Evolutionary Biology" by The New York Times, Francisco J. Ayala has made significant and wide-ranging experimental and theoretical contributions to evolution theory.
Dr. Ayala's scientific research focuses on population and evolutionary genetics, including the origin of species, genetic diversity of populations, the origin of malaria, the population structure of parasitic protozoa, and the molecular clock of evolution. He is a recipient of a Presidential National Medal of Science and the 2010 Templeton Prize for exceptional contribution to affirming life's spiritual dimension.
Dr. Ayala is University Professor and Donald Bren Professor of Biological Sciences at the University of California, Irvine. He is the author or editor of 40 books. He also writes about the interface between religion and science, and on philosophical issues concerning epistemology, ethics, education, and the philosophy of biology. He was a chief witness in the creationist trials in Arkansas in 1981 that prevented religion from being taught as science in the classroom.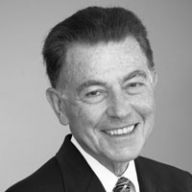 Recent Videos