Patrick Billard
Musician, DJ, Engineer
Patrick Billard (aka DJ Duckcomb) is one-half of the Brooklyn synth-heads Trap.Avoid. Sound artists unstuck in time, Trap.Avoid create lustrous landscapes that scan electronic music history. Billard cut his teeth in the NYC music scene as part of the taste-making DJ twosome Sharegroove, throwing legendary, sweaty loft parties throughout the last decade. His uncanny ability to uncover rare vinyl gems among the stoop sales, curb sides, and digital detritus of the internet has resulted in a staggering record collection that is currently taking over his Brooklyn apartment.
Trap.Avoid is known for haunting and brilliant keyboard instrumentals with hints of Chicago House and Italo Disco, grounded in enticing melodies as fit to please a dance pop raver as it is to warm the cockles of an experimental music buff's heart. The band has been remixed by an array of artists, including Sal Principato, the lead singer and percussionist for the seminal New York post-punk band Liquid Liquid.
Billard is also studio manager at Sweetsounds Studio in NYC.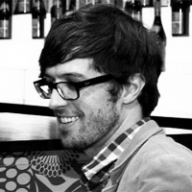 Explore More