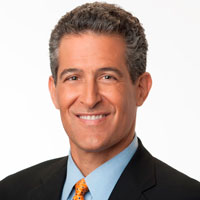 ABC News Chief Health & Medical Editor
Richard Besser is ABC News' chief health and medical editor. In this role, he provides medical analysis and commentary for all ABC News broadcasts and platforms, including World News with Diane Sawyer, Good Morning America, and Nightline.
Since his arrival at ABC News in 2009, Besser has been at the forefront of news coverage for every major medical story. When ABC News first reported on the health problems facing then-hospitalized, former President Clinton, Besser was there with insights and reporting on heart health. In January 2010, he reported from the ravaged country of Haiti in the immediate aftermath of a devastating earthquake.
Besser is the leading correspondent on ABC's global health series, Be The Change, Save a Life. He has traveled from Bangladesh to Burkina Faso, raising very important global health issues.
Besser came to ABC News from the Centers for Disease Control and Prevention (CDC), where he served as director of the Coordinating Office for Terrorism Preparedness and Emergency Response. In that role, he was responsible for all of the CDC's public health emergency preparedness and emergency response activities. He also served as acting director for the CDC and acting administrator for the Agency for Toxic Substances and Disease Registry from January to June 2009, during which time he led the CDC's response to the H1N1 influenza outbreak.
Besser began his career at the CDC in 1991 in the Epidemic Intelligence Service working on the epidemiology of food-borne diseases. Following this, in 1993, he served for five years on the faculty of the University of California, San Diego, as the pediatric residency director. While in San Diego he worked for the county health department on the control of pediatric tuberculosis. He returned to the CDC in 1998, where he served in various capacities, including epidemiology section chief in the Respiratory Diseases Branch; acting chief of the Meningitis and Special Pathogens Branch in the National Center for Infectious Disease; and as the medical director of "Get Smart: Know When Antibiotics Work," the CDC′s national campaign to promote appropriate antibiotic use in the community.
He has authored and co-authored hundreds of presentations, abstracts, chapters, editorials, and publications. He has received many awards for his work in public health and volunteer service including the Surgeon General′s Medallion for his leadership during the H1N1 response.
Besser received his Bachelor of Arts degree in economics from Williams College and his medical degree from the University of Pennsylvania. He completed a residency and chief residency in pediatrics at Johns Hopkins University Hospital in Baltimore, Maryland.
He met his wife Jeanne, a food writer, while on his first outbreak investigation in 1991. They have two sons, Alex and Jack.